O nie! Ja już nie chcę tego słuchać ósmy raz!

- Reakcja Diany na wzmiankę o carpaccio
Elephant carpaccio - metodyka slajsowania storiesów, stosowana głównie po to by część z nich umieścić niezwłocznie w Morzu Pleśni.
Sposób działania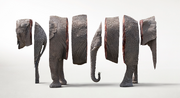 Opiera się na robieniu carpaccio ze słonia. Cokolwiek by to znaczyło... W praktyce sprowadza się do wypracowania jak najmniejszych części ficzera dających jakąś wartość, a jednocześnie zawierających wszystkie niezbędne elementy produktu.